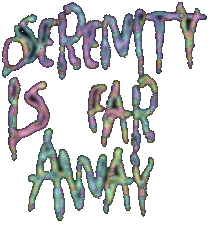 e-mail: aliceinchains@iname.com
Information
Serenity is Far Away: The Alice in Chains Fanzine is a non-profit organization dedicated to the band Alice in Chains, coordinated by Ryan Martin. Please note that we are non-profit. We're not doing this for ourselves, we're doing it for Joe Alicefan in Anytown, Insert_your_country.
This magazine is unofficial in the fact that we don't necessarily have the complete rights to replicate copyrighted material. By this, I mean that all tablature, articles, columns, etc. are original and done by contributors of this magazine.
We attempt to put only original things on this site. There's nothing I hate more than seeing the same crap on 30 different sites. If we do use graphics/text/etc. from another site, we get permission to use it. End of story.
If you would like to contribute an editorial, include it in the body of a letter sent to ryanmusic@juno.com.
Contributors
Let's start off the list with the main contibutors:

Layne Staley
Jerry Cantrell
Mike Inez
Sean Kinney

Collectively known as Alice in Chains.

Barrett Martin
John Baker Saunders
Mike McCready
Nalgas Sin Carne
Mark Lanegan

Mad Season people.
Now the other contributors:

Ryan Martin
Kris Heding
Joe Martin
Jason Qunell
Adam (ToxicSheep)
Catherine (AICAbsolut)
Greg M. Daughterty

Also, a special thanks to anyone on the Links page. An AiC site maker is a good person. Kudos to Sony and the Tripod Free WebSite service, too.
That's just about all you need to know.